Knowledgebase
VertexFX PAMM and MAM Implementation
Posted by Ahmad Al-Nabtiti on 09 August 2015 08:02 PM
Introduction
MAM (Multi-Account Manager) and PAMM (Percentage Allocation Module Management) accounts, allow money managers to manage multiple accounts without having to establish an investment fund or firm. MAM and PAMM accounts differ in how they actually function, but both essentially allow for someone to manage multiple accounts from one master account.
What Is a PAMM account?
PAMM stands for Percentage Allocation Module Management. This solution is offered by many brokerages and allows for investors to become part of a group of separate accounts which are then traded by one money manager. This money manager will be given a Limited Power of Attorney over the accounts in his control. This limited power of attorney gives the money manager the ability to trade on behalf of his clients, with the money manager controlling an account whose equity is equal to the total amount of equity held in all the separate individual accounts.
What is a MAM account?
PAMM accounts allocate trades based on percentage of total equity, MAM accounts give money managers more flexibility when sub-allocating the trades placed in the master account.
For instance it is possible for the money manager to allocate trades on a fixed lot basis. This means the money manager can set the number of lots to be traded by each individual account, to tailor his service to the account size and risk profile of his or her clients. This fixed allocation can also be achieved with LAMM (Lot Allocation Management Module) accounts which again allow for portfolio managers to manually manage lot size within sub-accounts.
In addition to having the option to manually set sub-account lot size, MAM account managers can also assign higher leverage to certain sub-accounts depending on their clients risk tolerance provided they have agreed to taking on extra risk. This flexibility has led to money managers increasingly opt to use MAM accounts.
Things to note
Since 2012, the NFA of the USA has placed severe restrictions on the use of PAMM accounts by US money managers. This had made it more difficult for USA based CTA's to trade Forex on behalf of their clients. It should also be noted that traders should advance with extreme caution when considering placing their money with an account manager.
Before you start
Now we know what PAMM and MAM are, now the real question isn't all that just theoretical or I can apply all these to get the most benefit?
Optimized sense (Hybrid-solutions' golden partner) and us. have achieved PAMM and MAM technologies to the upmost level can be achieved.
Before we get to the business and tell you how can you profit from all this, just imagine that you can manage all accounts if you are into money managing and applying both PAMM and MAM technologies and more, and you are one click far from doing it, just imagine that you can achieve your goals and your client's targets, collecting your commissions without suffering to go to every client and ask them for money, and how can you deposit/withdrawal, credit in/credit out money and do transactions without for many account at once.
Why suffering when optimized sense and us have provided three powerful plugins that can achieve your goals, and money managing purposes.
VertexFX e-Broker, VertexFX Account Mirroring are insight the money managing systems, they are in the money managing core indeed, we've prepared 2 methods (scenarios) to achieve PAMM and MAM by using VertexFX e-Broker, VertexFX Account Mirroring.
Let's begin to teach you how to use e-Broker to achieve PAMM and MAM, and then I will tell you how to collect your rebate commissions afterwards.
Watch the Video
---
Scenario 1:
How to use VertexFX e-Broker
1.After installing e-Broker you will add the accounts required to manage them by the Money Manager.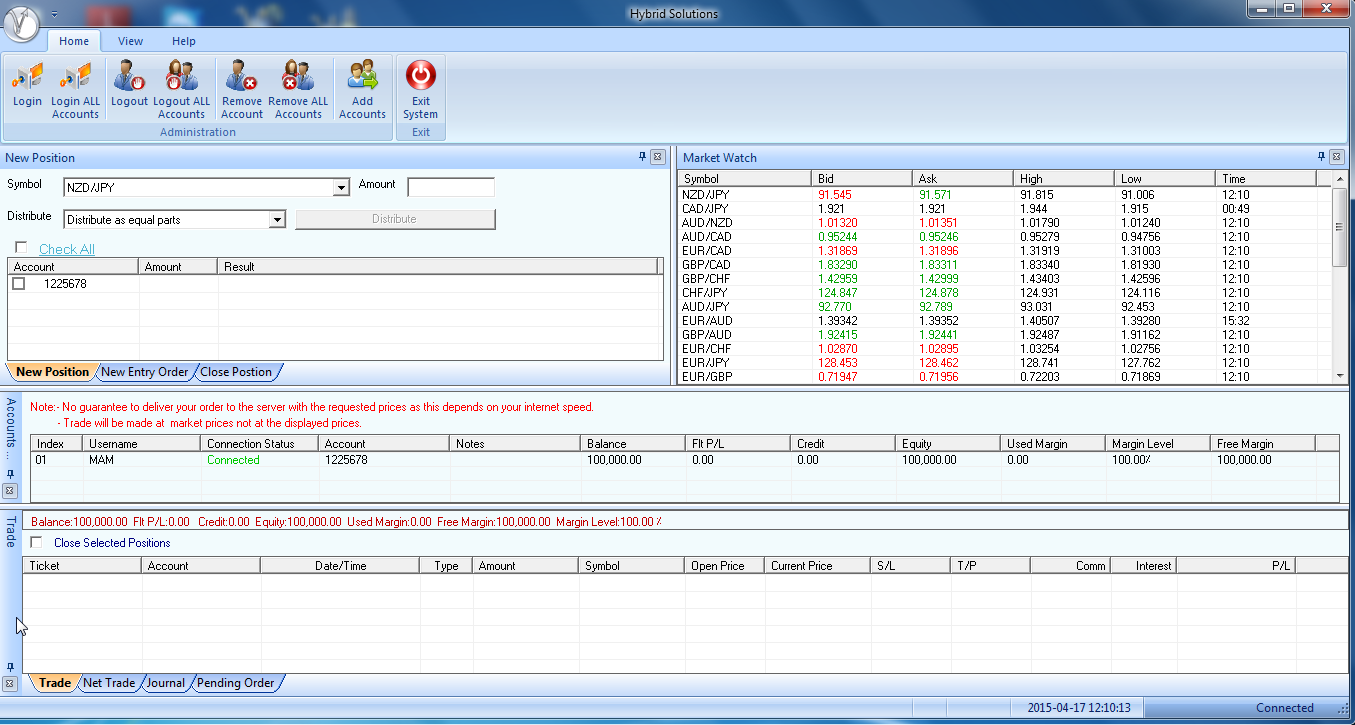 Fill the account information Username, Password and account number for each client.
2.After that you have to check on any account then press on login or login all accounts to login all the accounts that added to the Account List.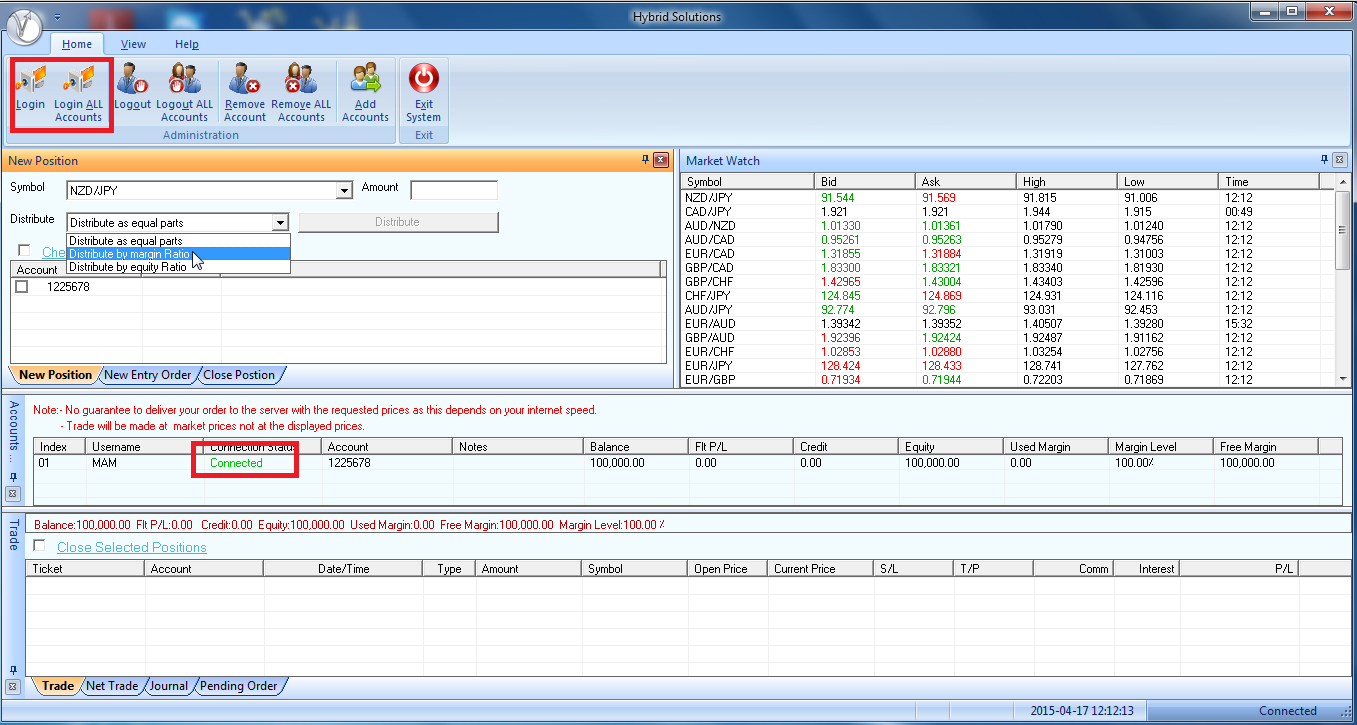 3.After login you will notice that connection status will turn to "connected" for each account.
Now you can distribute trades equally (lot size), by margin ratio or by equity ratio.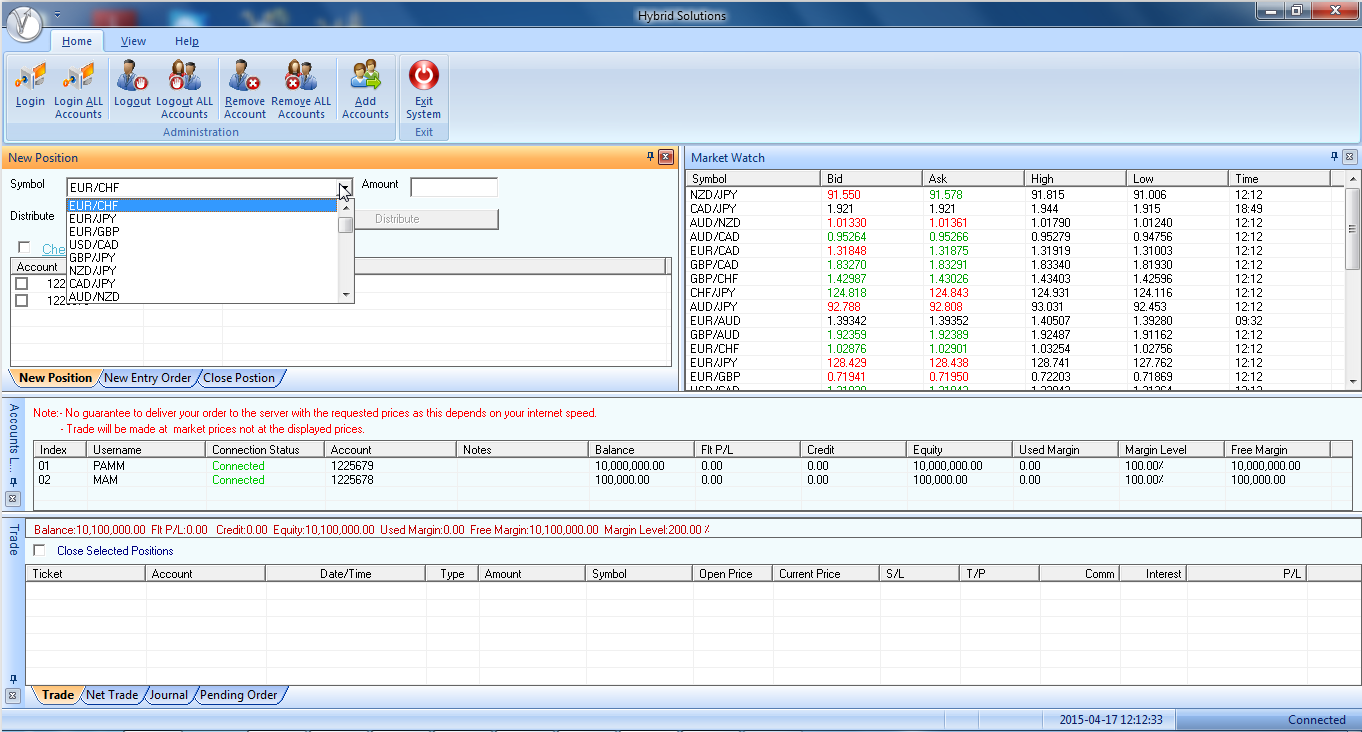 *To take orders choose any symbol then enter the amount click distribute then take orders and they will be distributed between your accounts.
* If you want to change the distribution click on the account in the accounts window double click on amount then enter the amount you desire.
This is a preview about using e-Broker I recommend to follow this link for more details and watch the tutorial undermost the page.
You can download VertexFX e-Broker by clicking here

Now let's pretend you have 100 clients every client and daily high-volume trading for each one, you will have a headache after calling every clients and let them deposit your commotion to your account.
To solve this issue Optimized sense came up with a very practical solution; very handy software will assist you collecting your rebate commissions on closing trades, and works as your accountant. It is the VertexFX Agent commission which should be configured from the dealing room side.
Watch the Video
---
How to use VertexFX Agent commission
1.When you open the VertexFX account mirroring plugin for the first time, this window will appear to you.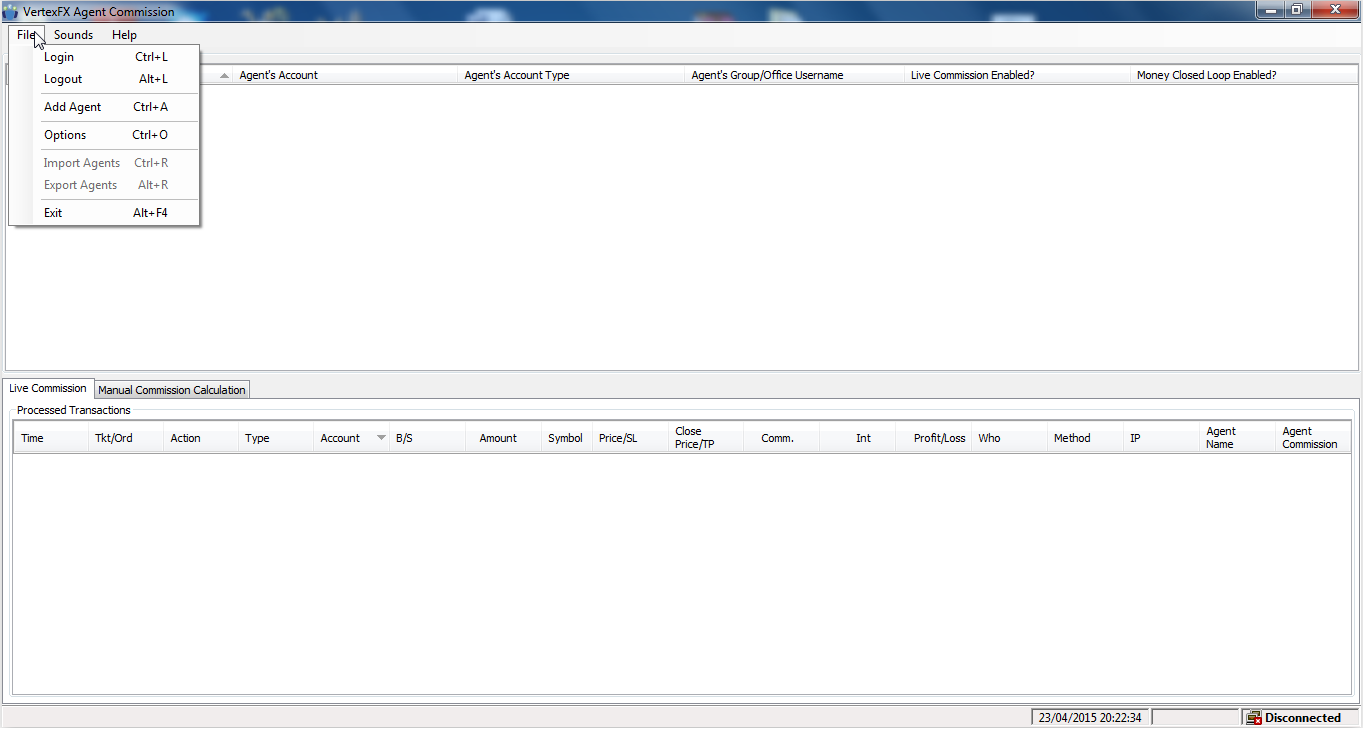 2.Click file --> login
3.Enter user name and password for the dealer you want him to be as money manager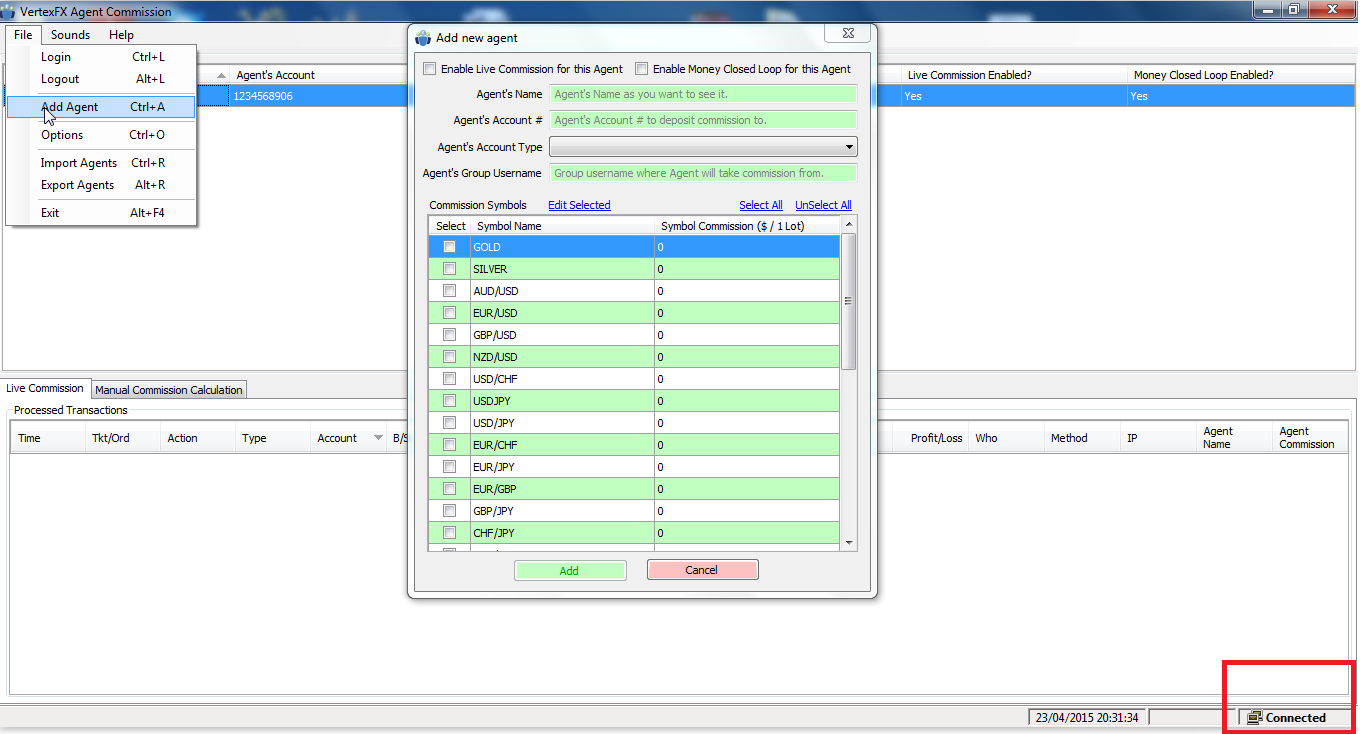 4.Click file --> then choose Add Agent option, and be sure that the status I connected .Please check the upper image.
Watch the Video
---
We will discuss every option and it's Description in this window as the following: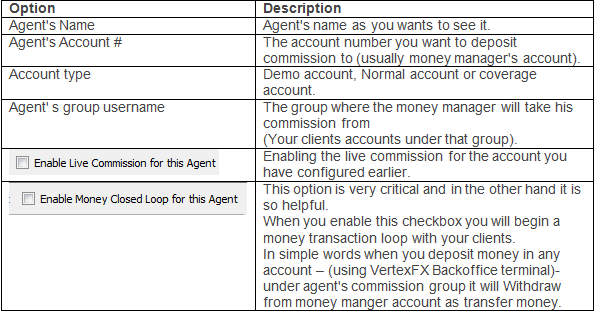 For any further information about the VertexFX Agent commission please click here

We have discussed the first scenario to help Money Managers to manage their clients' trades and we will discuss another scenario by using VertexFX Account Mirroring plugin and another plugin called VertexFX Money duplicator.
Scenario 2:
How to use VertexFX Account Mirroring
To use VertexFX Account Mirror, you need to configure it from dealing room side since it needs VertexFX Dealer login.
1-BackOffice
Begging with the VertexFX BackOffice terminal to use this method you must have one account to distribute positions from, and clients that you want to mirror to, as mirror accounts.
To do this method legally and 100% financially accurate you must make all mirror accounts as demo accounts and read only users, demo accounts so your clients' positions does not appear in the transaction log or any report to rid of money duplication, and read only so your clients can login and see their trades that money manger placed for them but they can't adjust or close any of those trades to be 100 % accurate and managed from the money manger.
First of all you should create demo accounts and one dealer, in the following example I'll use 4 accounts (PAMM client 1, PAMM client 2 , PAMM client 3, PAMM client 4) in a group I named it PAMM & MAM , and one dealer I named him PAMM Dealer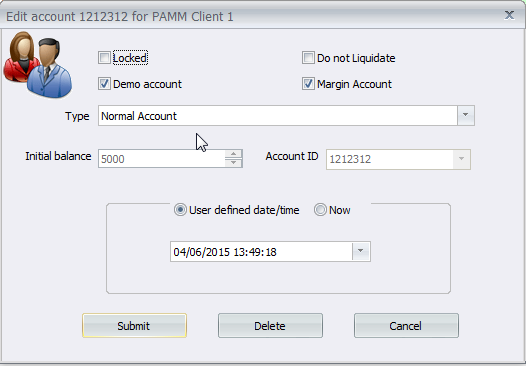 To use VertexFX Account Mirroring you must make your dealer's privileges on both PAMM & MAM Group, and the Money Manager account. Also the Money Manager client should not be inside the PAMM & MAM group, since we need to use this group usename to avoid duplication, so your tree will be as follows.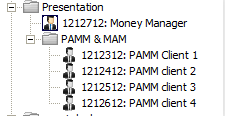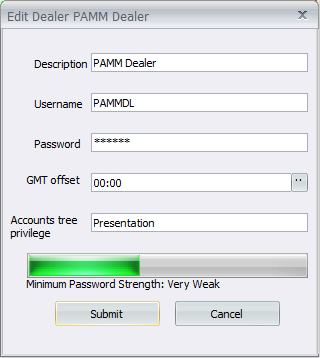 Things to note
-"Demo accounts perform as virtual accounts because if you deposit 20,000 inside the money manager's account and another 20,000 in each account there will be 40,000 and that isn't accurate financials wise."
-Money manager account shouldn't be inside the group of mirror accounts "PAMM &MAM".
2-VertexFX Account mirroring
Now we shall begin with the major part "Account Mirroring", we will learn how to mirror, and why we use this method when the first method "e-Broker" is much easier?
To be honest first method does not fit large corporations, with large amount of clients,
We're talking about big players here, a successful money manager with a lot of accounts to trade for, and a lot of client waiting for him to trade for them.
2-(a) Adding accounts
Before we learn how to add accounts let's take a look at the interface of the application and what you would see when ordering purchasing VertexFX Account Mirroring.
When you login successfully you will notice that the status in the hard corner in the bottom of the plugin turns to be "connected".
To add accounts right click anywhere inside the accounts list window --> add accounts.

A new window appears as follows: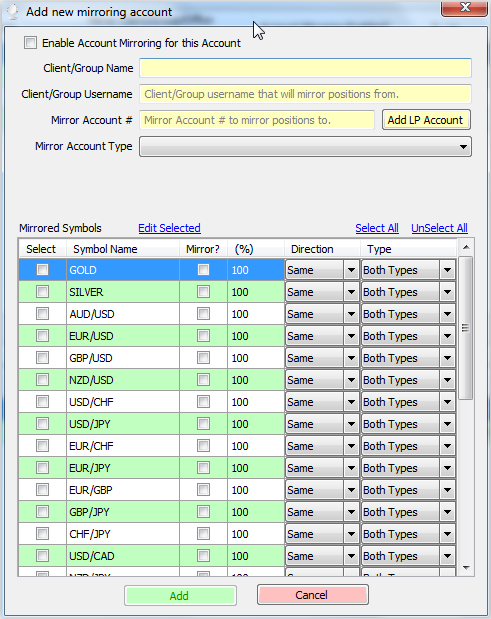 We will discuss every option and it's Description in this window as the following: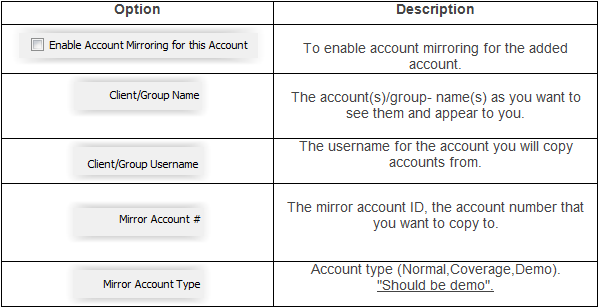 We will discuss every option and it's Description in this window as the following:
2-(b) Mirroring symbols
To mirror symbols, from the list of symbols, select the checkbox under the symbol name, and "mirror?"-->Double click on the (%) to add the percentage you want to mirror for this account from the master account.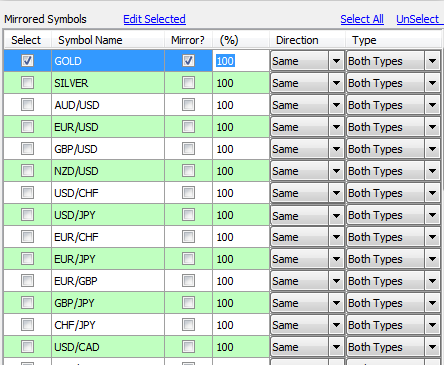 To mirror multiple symbols, select the symbol-->Right click -->edit selected, or click on Select All -->Right click -->edit selected, as in the following images:
Things to note
The sum of percentage you configure for each symbol must be 100% to avoid fractions" 100% the sum of all trades has been mirrored".
Ex: If you take 4 lots of gold, then the percentage of gold will be 25% to distribute 1 lot for each account, and if one account percentage is 50% then this account will take 2 lots and the other 3 accounts will take 1 each, the total percentage will be 125% for all accounts.
Ex 2: If you have 100,000 balance and the initial margin for gold is 3000 for 1 lot then 100000/3000 =33.3333333333333333333333333333333 lots that's not an integer and financially wrong because when the system approximate it then it will be 33.333 because the system only accepts 3 dismals according to your system configuration, so 33.333*3000=99999 so there is one dollar lost in that calculation, you does not complete total 100,000, and you need to be careful in that matter.
You need to know
We've almost got there and we have known everything about managing money, and as we've got very accurate with our calculations and distribution methods.
A brilliant man asks if I have 1000 clients I can't deposit money one by one because that will be a trouble actually big one.
Optimized sense has developed a useful plugin called Money Duplicator, very handy tool help you to money transact easily in a large scale, since we are using mirror plugin with bulk action at a time.
3-VertexFX Money Duplicator
As you install this plugin and purchase its license this is what you will see.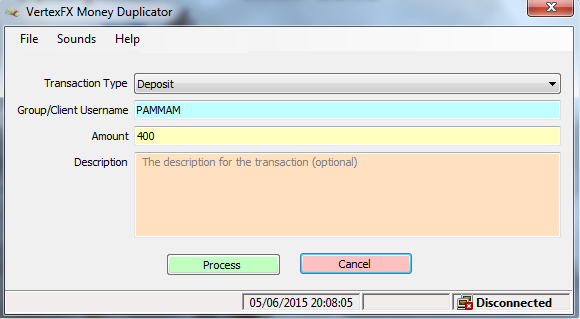 Transaction Type: (deposit, withdrawal, adjustment, credit in, credit out).
Group/Client Username: (group of clients you would like to money transact for them), and it will make this action for all client that located under this group.
Amount :( the amount in US dollars).
Description :( any description for the transaction) that you need to see in the money transaction report.
1-Login using a dealer with a privilege to the group you want to do transactions for, File-->Login or Ctrl+L.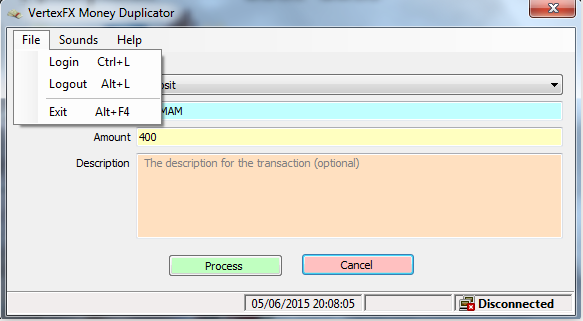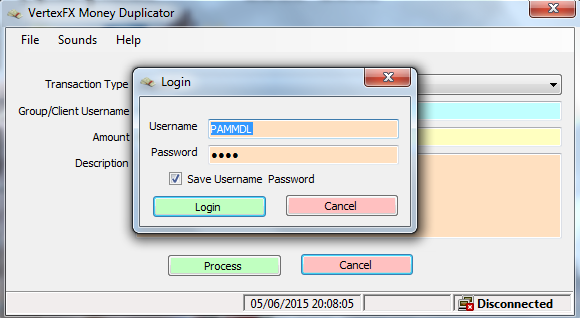 2-After logging in the status will turn to "Connected".
3-Fill the information as described above

Transaction type
Group of clients you like to do money transactions for.
Amount of money.
Description (optional)
4- Click on process
Watch the Video
---
Conclusion
1-You can do money transactions and Money management for your clients easily and very convenient using various applications developed by Hybrid-solutions and Multible ISV plugins host at vStore.
2-There is 2 ways to apply PAMM and MAM the first scenario is by using VertexFX e-Broker and VertexFX agent commission, and the second scenario is by using VertexFX Account Mirroring and VertexFX Money Duplication.
3- In this article, we use some third partys' plugins, VertexFX Post Trade MAM is a third party plugin, can be check from this link:
Last but not least we will do a comparison table between the two scenarios.

Notes:
- Money Duplicator can be used in both methods (scenarios).

---